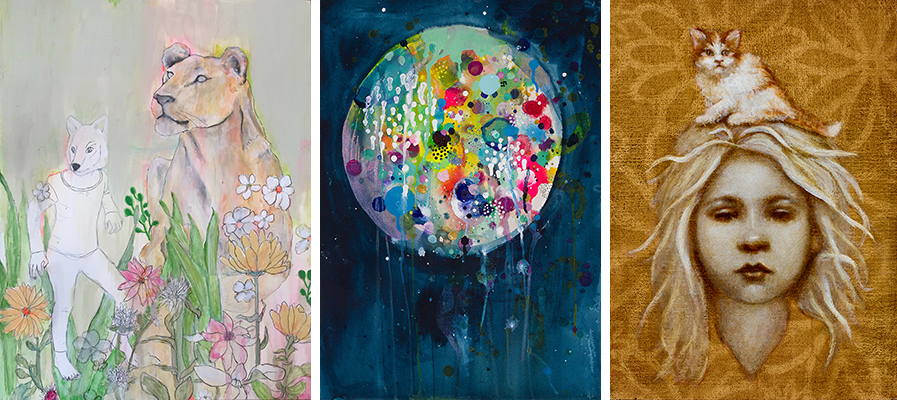 Relationships, like nature, when adequately cultivated blossom into healthy new growth. With the collaborative exhibition Simpatico, co-curators Alix Sloan (Sloan Fine Art) and Lori Johns (Phylogeny Contemporary) celebrate visual, energetic and professional compatibility. Colleagues for over a decade, Sloan and Johns have selected three female artists – Julia Marchand, Deirdre Sullivan-Beeman, and Liz Tran – whose work compliments each other by sharing similar themes and attitudes, but with absolute individuality and no prior working knowledge. The exhibition intentionally takes place during the height of Spring, to further emphasize the spirit of hope, renewal, and positivity.

Julia Marchand believes the desire to reconcile the simultaneous connection and separation between humanity and nature is ancient, ubiquitous and inescapable. In her work, she references wildlife dioramas, public gardens, and personal experience to explore how that tenuous connection affects our personal and social identity and development.

Marchand studied painting at San Francisco Art Institute, holds a BA in Art History from American University in Washington DC and a Master's degree in Art Education from Boston University. Her paintings and works on paper have been exhibited at galleries, art fairs and museums including PPOW Gallery and Sloan Fine Art, New York, NY; C Emerson Fine Arts, St. Petersburg, FL; Phylogeny Contemporary, Seattle, WA; Perihelion Arts, Phoenix, AZ; Varnish Fine Art, San Francisco, CA; LA Art Fair, Los Angeles, CA; artMRKT San Francisco, CA; Aqua Art Fair, Miami, FL; and Museo de la Ciudad de Mexico, Mexico City, Mexico. Currently, she lives and works in Alameda, CA. Currently, she lives and works in Alameda, CA.

Deirdre Sullivan-Beeman is a self-taught figurative and contemporary surrealist painter. She uses modified oil and egg tempera techniques of the 14th century Old Masters to create works of magical realism that seem to glow from within. Celebrating the hard-earned wisdom of childhood, Sullivan Beeman depicts subjects who are often young, hauntingly innocent, and teetering on the edge of naïveté and what lies beyond. The narratives, symbology, and illumination in her pieces emerge from someplace subliminal, a conjured realm of magic, mysticism, and mystery. She uses her personal dream journal to inspire her artwork, exploring Jung's collective unconscious with an overt curiosity for the bizarre and the esoteric, especially alchemy, the tarot, and spirit daemons.

Sullivan-Beeman's work has been shown at Aqua Art Miami, FL; C Emerson Fine Arts in St. Petersburg, FL; Corey Helford Gallery and La Luz de Jesus Gallery in Los Angeles, CA; Stephen Romano Gallery and Gristle Gallery in Brooklyn, NY; Phylogeny Contemporary, Seattle, WA; Greg Moon Art in Taos, NM; Merlino Galleria d'Arte Contemporanea, Florence, Italy; the Life Is Beautiful Music and Art Festival in Las Vegas, NV; and Art! Vancouver, BC, Canada. She holds a BFA, in Cinema/Television Production, from the University of Southern California, and splits her time between Los Angeles, and Vancouver.

Channeling subjects such as dream imagery, imagined landscapes, geodes, outer space and The Big Bang, Liz Tran explores the shapes of nature, with the infusion of fantastical, pulsing synthetic hues. The psychedelic visuals are harvested from the place where inner-verse meets outer-verse, where optical misfires combine with a vacuum pull moving at the speed of light. Through painting, sculpture and installation, she creates atmospheres that aim to activate.

Public collections of Tran's work include the City of Seattle's Portable Works Collection, Capital One, Vulcan Inc., Baer Art Center, Camac Art Centre, The El Paso Children's Hospital, Harborview Medical Center, The King County Public Art Collection and The Child Center. Tran has completed multiple special projects and installations, including work for VH1Save the Music Foundation, The Seattle Art Museum, The Brain Project Toronto, Public Art at The Aqua Art Fair Miami and Vulcan Inc. She has been awarded multiple fellowships and grants; including a Grant for Artist Projects (GAP) from Artist Trust, Clowes Fellowship for residency at the Vermont Studio Center, the Nellie Cornish Scholarship and residency at The Camac Art Centre in France, The Baer Art Center in Iceland, Jentel, Millay Colony for the Arts and The Center for Contemporary Printmaking. She resides in Seattle, WA.
Click here to view the exhibition.