3/6/18
We've joined Artsy, the largest online database of contemporary art, used by art lovers, museum-goers, patrons, collectors, students, and educators to discover, learn about, and collect art. Visit our page and follow us, or follow any individual artist, to receive updates when new works are posted.
---
1/26/18
Welcome home Nicole Etienne! After several very successful years in living and exhibiting in Europe, Nicole Etienne is back in the US. We're honored to co-host her welcome home solo show at Bert Green Fine Art in Chicago this spring.
---
1/14/18
We're very excited to participate in Art Palm Springs this coming February. Come visit us in booth #211 where we'll be exhibiting works by Aaron Smith, Brad Woodfin, Eric Finzi, John Abrams and Michael Malizia.
---
12/14/17
We'll be closed for the holidays December 23rd through January 1st. Happy holidays!
---
11/14/17
Aaron Smith's beautiful work is included in "Beards Rock: A visual dictionary of facial hair," out November 21st and available for pre-order now!
---
11/10/17
We've started adding 2018 shows to our upcoming exhibitions page.
---
9/15/17
We will be relocating our offices October 13-31. Please excuse any delay in communication during this time. We'll get back to you as soon as possible!
---
5/1/17
Don't miss "For the Good Times," curated by Mark Todd with works by Tim Biskup, Rob Clayton, Ramsey Dau, Esther Pearl Watson, Frieda Gossett and Sloan Fine Art artist Aaron Smith at Space Gallery in Pasadena, opening May 6th.
---
4/30/17
We're pleased to announce we'll be collaborating with Phylogeny Contemporary in Seattle on a four person exhibition in April 2018. We will also return to Chicago in May 2018 with a pop up show at Bert Green Fine Art. Details will be posted to our Upcoming Exhibitions page later this year.
---
2/9/17
One of the advantages of a nomadic gallery is we have the flexibility to take time off from exhibitions now and then for other projects and obligations. Because we'll be busy working on a range of projects throughout 2017, we won't be scheduling any formal exhibitions this year. But don't worry. We aren't going anywhere. Our offices are open, we have works available by many of the wonderful artists we work with, and we are planning an exciting 2018 exhibition schedule!
---
12/21/16
We'll be closed December 22, 2016 through January 2, 2017. Happy holidays to you and yours!
---
11/03/16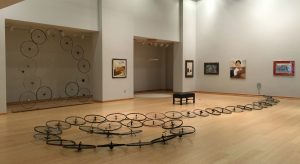 This fall the town of Ferrara, Italy is commemorating what would have been the 100th birthday of "Giardino Finzi-Contini" author Giorgio Bassani with events citywide. As part of the celebration, Eric Finzi's hauntingly beautiful, deeply personal exhibition about his family's experience and his connection to the story and the town of Ferrara will be on display at the historic Museo Nazionale dell'Ebraismo Italiano e della Shoah, Casa di Ludovico Ariosto from Nov. 15, 2016 – Jan. 30, 2017. This will be the third stop for the exhibition which has previously shown at the Radford Art Museum in Radford, VA and Linda Warren Projects in Chicago, IL. What a wonderful honor and exciting development for the artist and the exhibition! If you have plans to visit Italy while the show is up, please do visit the museum. If you'd like to learn more about the exhibition, visit Eric Finzi's website.
---
10/12/16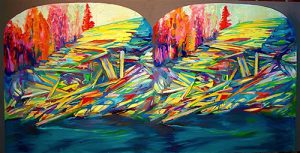 Don't miss this rare (and fabulous!) landscape painting, "Load" by Aaron Smith, featured in "Panorama: Revisions of Landscape," curated by Mark Todd and Esther Pearl Watson with works by Rob Clayton, Sally Deng, Esther Pearl Watson, Seonna Hong, David Jien, Mark Todd, Paige Jiyoung Moon, Kim Cadmus Owens, Sean Qualls, Souther Salazar, Brooks Salzwedel, Ana Serrano, Rachell Sumpter, Gina Triplett and Karla Wozniak, at the Eastfield College Galleries in Mesquite, TX. The exhibition runs Oct 13-November 11, 2016.
---
10/10/16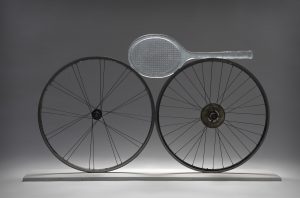 Congratulations to Eric Finzi whose piece "Tennicycle" from his "Finzi-Contini Giardino" exhibition will be included in "From Generation to Generation: Inherited Memory and Contemporary Art," at the Contemporary Jewish Museum, alongside works by Christian Boltanski, Nao Bustamante, Binh Danh, Silvina Der-Meguerditchian, Bernice Eisenstein, Nicholas Galanin, Guy Goldstein, Fotini Gouseti, Ellen Harvey, Aram Jibilian, Loli Kantor, Mike Kelley, Lisa Kokin, Ralph Lemon, Rä di Martino, Yong Soon Min, Fabio Morais, Elizabeth Moran, Vandy Rattana, Anri Sala, Wael Shawky, Hank Willis Thomas, and Chikako Yamashiro. The show runs Nov 25, 2016–Apr 2, 2017. If you're in San Francisco, please visit the exhibition.
---
10/03/16
We're so pleased to launch our new website – finally! We hope you enjoy it. And if you notice any errors, glitches or problems, please do let us know!
---
8/01/16
Thanks to everyone who joined us for "My Blood Runs Yellow: A Tribute to Giallos" curated by Drew Fitzpatrick and Alix Sloan. We were thrilled to learn there are so many Giallo fans out there! Check out interviews and articles about the show at the links below:
Rue Morgue Magazine interview
io9 feature
Cool Hunting article